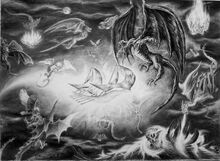 Name:Earandil
Age: 15
Gender:Male
Species: Half-Human Half-Elf
Hair:Blonde
Eyes:Blue
Other:
Basic info: Raised by his mother, who was also trained at the Academy, Shadiya had always felt different, until the day his abilities manifested, and he came to the Academy. He's a semi-loner, and he doesn't trust easily, but when he does, he is fiercely loyal. He doesn't remember his father, and his mother refuses to tell him about him. He only has a couple of things from his father, but he treasures them.
Focuses: Minors: Earth, Energy, Healing, Mind. Major: Death.
Weapons: Energy sword from his mother, Shield from his father.
_____________________________________________

"We can't just let her die!" -Gensuha
"I can. I can TOTALLY let her die." -Tyern.